Our Approach
Pierce Insurance heritage is
built on servant leadership and innovation.
Our Mission
To continue our legacy of compassionately serving our clients with integrity
Our Vision
To remain on the forefront of innovative solutions that support a superior workforce
Our Values
Faith-based Leadership
Compassionate Service
Fostering Relationships
Cultivating Excellence
"Pierce Insurance Agency is driven by a family-first approach, where people are put above profit."
All things should be done decently and in order
1 Corinthians 14:40
Our Approach
Every employer, public and private, has unique Human Resources challenges. Employee benefits should not be one of them. Pierce Insurance, an independent benefits consultant and full-service broker, understands the needs of our clients. We tailor our benefits offerings based on the demographics, core plans, and desires of our clients and their employees.
As independent consultants, it is our responsibility to:
Monitor the market for new and innovative employee benefits ensuring your employee benefits package remains uniquely competitive
Review vendor performance
Monitor and report on current market trends and legislative developments
Analyze claims and utilization cost drivers ensuring we provide overall lower rates for your employee benefits
As independent benefits brokers, it is our responsibility to arrange, implement, and administer value-packed benefits programs utilizing:
Highly rated carriers with proven track records. When carriers compete, our clients win.
Time-saving enrollment and reconciliation technology and services. Benefits professionals are free to focus on other important issues at hand.
Professional support teams that care. We are your employees' advocates.
What We Offer
Specialized Core and Supplemental Benefits Tailored to Your Employees' Specific Needs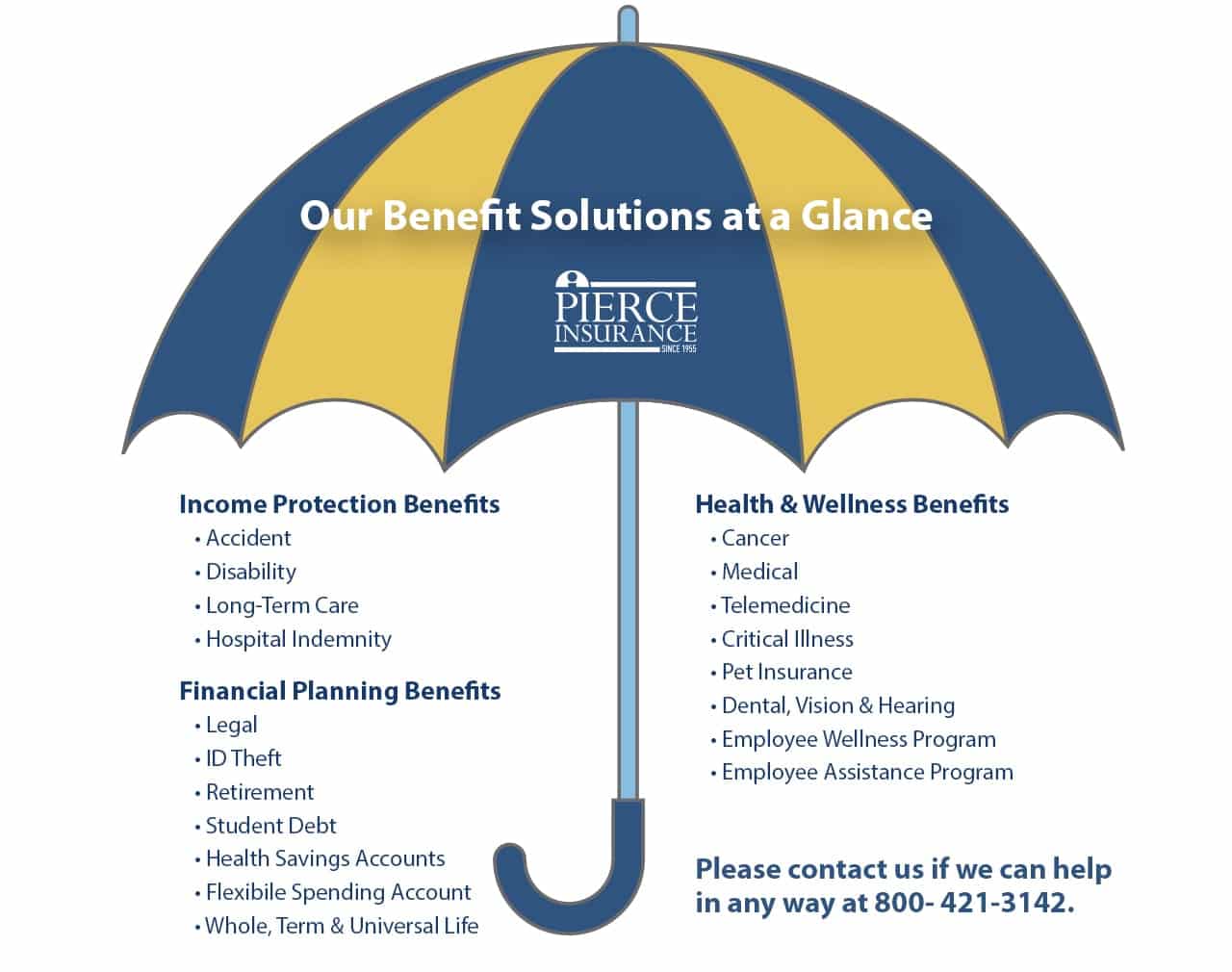 Experience
Pierce Insurance is a strategic leader in employee benefits and has been helping employers, public and private, meet their supplemental benefits goals since 1955. Our founders, Lonnie and Wanda Pierce paved the way for competitive employee benefits for the public sector. They were responsible for establishing North Carolina General Statutes § 58_31_60 (Competitive Selection of Payroll Deduction Insurance Products Paid for by State Employees) over 36 years ago.
Pierce Insurance is now led by its 2nd generation, Lonnie T. Pierce and Patricia Pierce Combs, and has grown to over 700,000 in-force policies with over 500 combined years of experience in the Public Sector market.
Continuing to present innovative and diverse insurance products provides a way for Pierce Insurance to "give back" to those who serve-whether as employees of the state, county, or local government including the education sector. Pierce Insurance is a respected independent consultant not only ready, willing, and able to find the best employee benefits solutions, but we also implement and manage these programs throughout the plan year. We do not rely on insurance companies to serve our clients. It is our privilege to serve our clients.
Negotiating Skills that Work for You
Pierce Insurance takes pride in providing the most favorable underwriting and pricing for the public and private sectors. Our negotiating skills have resulted in programs being utilized by the largest public sector employers in North Carolina and Virginia. Advantages of selecting Pierce Insurance as your benefits broker include:
Pricing Concessions
As a leader in employee benefits, Pierce Insurance has pre-negotiated competitive rates and unique benefit offerings throughout North Carolina, Virginia, and South Carolina.
Multiple Years of Guarantee Issue
Employees typically not eligible for individual, supplemental insurance because of health concerns would be eligible through you, their employer. This enables employees to get the coverage they need.
Multiple Years of Rate Guarantees
Not only have we pre-negotiated rates for several products, we also negotiated rate guarantees.