Pierce Insurance is honored to have been selected by National Benefits Partners.
Pierce Insurance is honored to have been selected by National Benefit Partners, a national marketing firm and employee benefits innovator, to pass along to our clients, voluntary programs designed to keep pace with emerging needs coupled with an exclusive way to support local Children's Hospitals. The good news for our clients and their employees is that donations are generated on their behalf when employees attend an enrollment meeting. That's it. There is no obligation to purchase and donations are funded by Pierce Insurance, National Benefit Partners, and participating providers.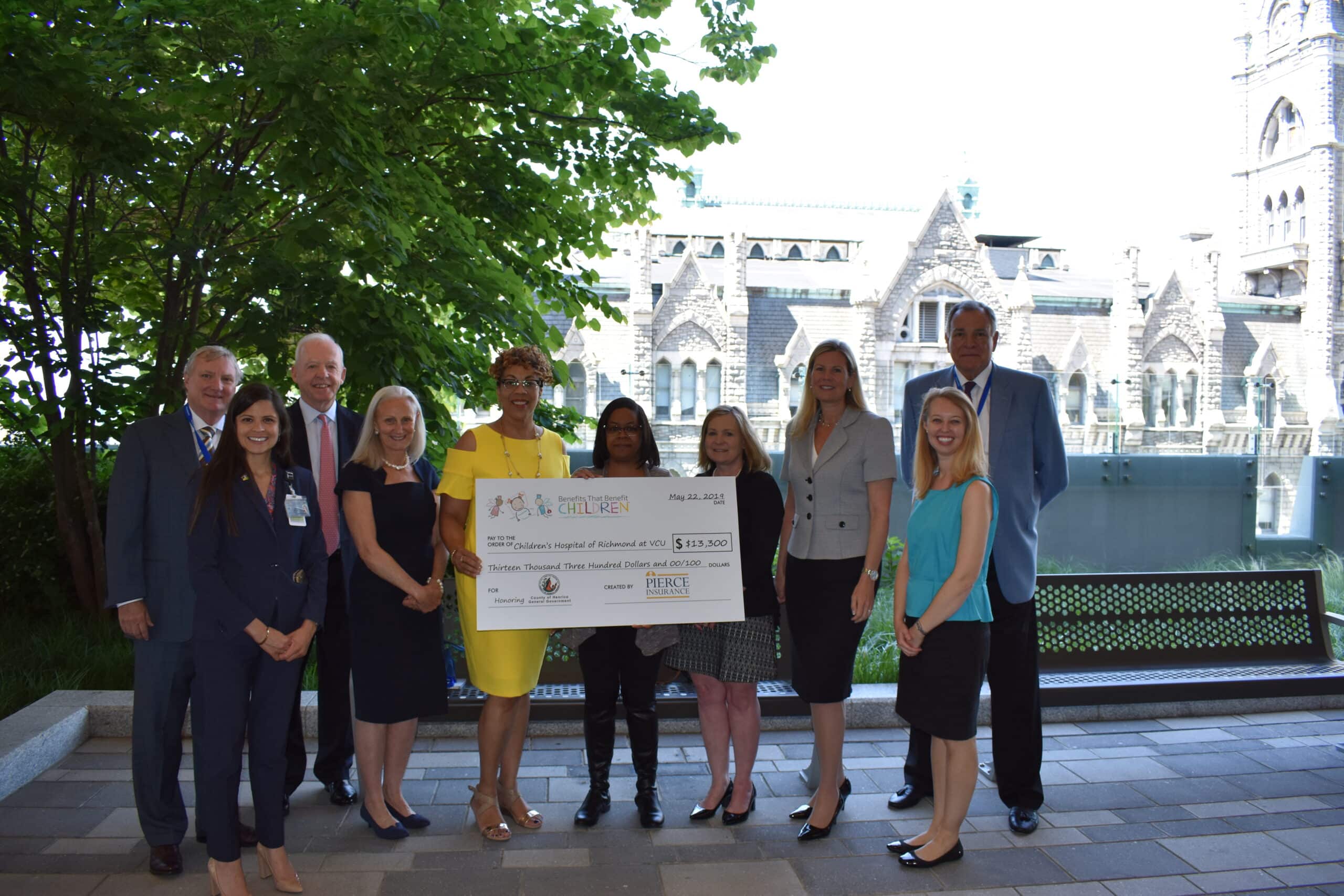 From left to right: Lonnie Pierce III, President, Pierce Insurance; Suzanne Bergamo Britt, Director, Children's Pavilion; Frank Doherty, Managing Partner NBP East; Vivian Pierce Flynn, Vice President of Marketing, Pierce Insurance; Tina Brooks, Benefits Manager, Henrico Public Schools; Terri Melton, Benefits Manager, County of Henrico General Government; Paula Reid, Director of Human Resources Henrico County; Dr. Amy E. Cashwell, Superintendent Henrico County Public Schools; Sarah Irby, Director of Community Relations, Children's Hospital Foundation; Paul Monica, Vice President, Benefits That Benefit Children.
Henrico County Supports Children's Hospital of Richmond at VCU Through the Benefits That Benefit Children Program
On May 23, Children's Hospital of Richmond at VCU received a $13,300 donation resulting from the Benefits That Benefit Children campaign, a cause marketing program through National Benefit Partners and The Pierce Insurance Agency that provides donations to select children's hospitals throughout the country. More than 1,330 Henrico County employees generated the donation by simply reviewing the voluntary benefit program offered by the county. For every employee who attends a benefit presentation administered by Pierce Insurance a donation is produced. Henrico County with Pierce Insurance has become a Children's Champion for Children's Hospital of Richmond at VCU.
READ MORE